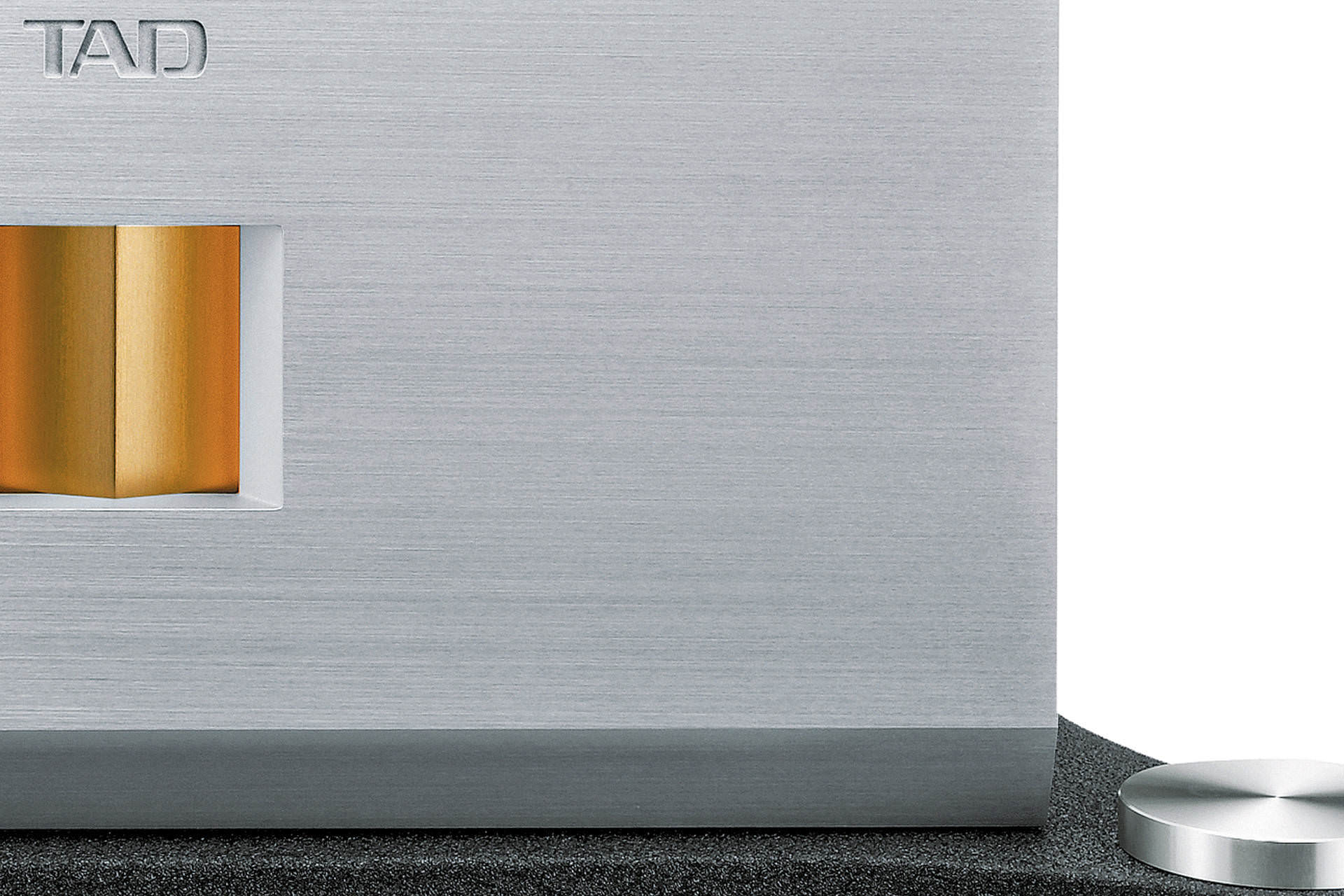 TAD Labs Story - the milestones
Like no other brand, TAD Labs is distinguished by the fact that each model represents what was technically feasible at its time. At the time of its foundation in 1975, this was just as true as it is today!
2019

TAD launches the E1TX Speaker System

The

E1TX

is a further evolution of the

Micro Evolution One (ME1)

- which achieves playback with excellent sound field reproduction and audio image localization over a broad frequency range that exceeds expectations for its compact body size finished into an imposing yet dignified-feeling floor speaker system.

2002

TAD M1 - Model One

When the TAD Model One - TAD Lab's first 'Prosumer' loudspeaker - was released, the expert audience's unanimous verdict was "Best loudspeaker in the world". This is not surprising, since no one less than Andrew Jones himself was involved in the development, together with Japan's best engineers. The effort in the cabinet construction of this exceptional 4-way speaker is unrivalled to this day; the list of technical refinements is impressive.

2000

TAD THX Cinema Speaker

After the great success in the studio sector, the cinemas also became aware of the outstanding TAD drivers. Skywalker Sound set up a requirement specification and asked TAD Labs to build the ultimate cinema speaker. In 2000, the TSC-3415 three-way system and the TSC-1118SW subwoofer - both THX certified, of course - were developed. Since then, this impressive combination has been used in numerous cinemas worldwide, as well as in film studios such as Skywalker Sound, Pixar, Walt Disney - just to name a few.

1983

TSM-1 and TSM-2 studio monitors dominate the market

Introduced in 1983, the state-of-the-art TAD Labs TSM-1 and TSM-2 studio monitors quickly gained an excellent reputation. The clear, precise sound, which reflects the energy and passion of live music like hardly any other loudspeaker, gives these TAD Labs models a near monopoly in the eighties. Even by today's standards these legendary transducers are a coveted collector's item.

1978

TL-1601, TD-2001, TD-4001

Hardly imaginable in today's fast-paced world, but possible thanks to TAD Labs' advanced technologies: The TL-1601 Professional Audio Bass Driver, pioneering as early as 1978, and the two Beryllium TD-2001 and TD-4001 compression tweeters are still being built today and used in numerous international recording studios, including the legendary 'Air-Studios' in London.

1975

TAD Labs - first choice for professional loudspeaker chassis

While Pioneer concentrates on the mass market, the decision is made to outsource the development and construction of chassis for the professional audio sector. TAD Labs - "Technical Audio Devices Laboratories" - is born! Since day one, TAD Labs has been building only the highest quality, technologically leading loudspeaker chassis. Used in countless recording studios worldwide, the name TAD Labs has become an integral part of the professional scene. TAD's philosophy has remained the same to this day: Technological superiority paired with uncompromising authenticity.

1 January 1938

Foundation of the Pioneer company

The Japanese company, formerly known under the name 'Fukuin Shokai Denki Seisakusho', concentrated almost exclusively on the construction of high-quality loudspeakers for over 30 years from its foundation. This know-how flowed into TAD Labs in 1975, while Pioneer focused its business on consumer electronics and car audio.