• The D/A converter uses Burr-Brown PCM1794A chips in a twin differential configuration.
• The circuitry and power supplies are completely isolated between digital and analog sections, ensuring low noise.
• A 70μ copper foil PCB lowers losses from board wiring, permitting accurate signal amplification.
• The power supply utilizes a high capacity toroidal transformer for powerful yet responsive sound.
PURITY
The #1 goal of the TAD-C2000 is to reproduce music faithfully, and superior components make this possible. Using technology developed from the D600 disc player, a custom developed UPCG (Ultra High Precision Crystal Generator) quartz oscillator provides a precise, stable and ultra-high C/N (Carrier to Noise Ratio) clock signal, thoroughly reducing phase noise and enabling sound reproduction with unprecedented purity.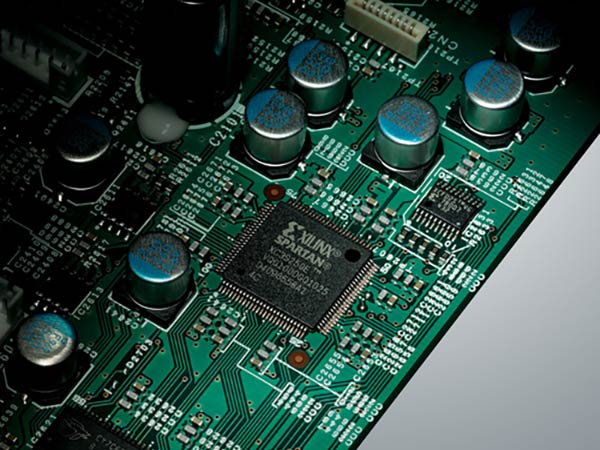 INNOVATION
In order to achieve the best sound quality from music, files transferred from a PC, TAD developed the Asynchronous USB Transfer Engine. In contrast to the normal synchronous transfer method, the asynchronous method adopted by the TAD-C2000, controls the data transfer on the receiving end using a high quality clock, and resulting in a high-precision PCM signal free from clock jitter created in the PC or transfer stages. The ultra-high C/N master clock UPCG equipped D/A converter converts it to precise, high-quality music signals.
ACCURACY
In order to achieve accurate signal transmission, the TAD-C2000 maintains a fully symmetrical design, right down to the circuit topology, the PC board and the wiring. The analog circuitry is fully balanced from input to output. These circuits utilize separate boards for left and right channels with identical wiring lengths for each, achieving identical L/R circuit symmetry with Dual Mono Construction.
STABILITY
In order to prevent vibration from affecting sound quality, the chassis is machined from a solid piece of aluminum to eliminate joints and provide a stable, heavy and mechanically grounded platform. The components are directly attached to further limit any chance of noise-generating vibration. Even the feet, made of cast iron, are supported at three points to the chassis for improved stability.
ELEGANCE
The TAD-C2000 is truly a work of art in every aspect, from the textured silver and black aluminum chassis right down to the high-precision ball bearings that give the aluminum control knobs a responsive, yet delicate touch. The LCD screen features TAD's usual warm color and offers high visibility. With the TAD-C2000, both form and function work in tandem to provide an experience that is just as pleasing to the eyes as it is to the ears.
All TAD Labs products are 100% developed in Japan and custom machined/handcrafted to the strictest specifications.


---
"So etwas von hochauflösend bis in den tiefsten Bass, so eine stabile Räumlichkeit mit Tiefe, solch eine Präzision plus aberwitzige Reserven: Das zählt zum Besten, das ich kenne – ein Naturereignis!"

"These first 'consumer' TAD units boast considerable engineering finesse and deliver exceptional sound quality, being highly revealing while remaining at all times musically involving. Put them on your list of gear to hear, before you die!"
Model
TAD C2000 Preamplifier / DAC
Input connectors
Analog: 2x balanced, 2x unbalanced
Digital: 1x balanced, 1x unbalanced, 1x USB (standard type B)
Output connectors
Analog: 2x balanced, 2x unbalanced
Rated output voltage
balanced 1.5 V, unbalanced 0.75 V
Maximum output voltage
balanced 16 Vrms, unbalanced 8 Vrms
Rated distortion (T.H.D.)
0.003%
IHF SN
120 dB
Frequency response
10 Hz to 100 kHz, −1 dB
Gain
12 dB
Analog maximum permissible input voltage (−40 dB)
balanced 20 V, unbalanced 10 V
Supported sampling frequencies
44.1 kHz, 48 kHz, 88.2 kHz, 96 kHz, 176.4 kHz, 192 kHz
(limitations may occur depending on OS and playback software)
Power requirements
AC 220 V to 240 V, 50 Hz/60 Hz (Europe/Asia)
Power consumption
37 W
Power consumption during Standby mode
0.5 W or less
Dimensions
440 mm (W) x 140 mm (H) x 393 mm (D)
17-5/16 in. (W) x 5-1/2 in. (H) x 15-1/2 in. (D)
Weight
23.5 kg / 51.8 lb